Our skin has the power to regenerate itself depending on our age, hormones, stress level, sleep quality and nutrition. Normally Teens have shorter skin cycle from 10-21 days. No wonder their skin is smooth, thigh, and glowing. While young adult the skin cycle is from 21-28 days. The older we get, the slower will be our skin cycle, for 40's and 50's adult the cycle is about 45-60 days and for 50's-60's age group is about 60-90 days.
 Now we know that skin regeneration slows down with age, we can now be proactive in maintaining our skin care routine. As we age our skin needs more attention, if we just let our skin renew by itself, we might end up with dark spots, freckles, wrinkles, and dull sagging skin.
Medispa Treatments you can consider to help you with your skin renewal and maintenance regimen:
Chemical Peel
Do you suffer with skin pigmentation? Our Bright Peel® (pH1.5) peel is ideal as an anti-ageing solution, for patients wanting to erase the first signs of ageing, without needles and injections.
Designed to target pigmentation and to lighten and brighten the skin. A unique combination of gluconolactone with phytic, citric and glycolic acids, taking the skins pH to 1.5 for superficial peeling. Bright Peel gives instant uniformity of the skin and works on long term improvement of pigmentation.
No skin preparation is required by the patient before treatment and there is minimal to no 'downtime'. It is the most non-invasive method of eradicating wrinkles and can even be applied during lunch breaks.
Fillmed Bright Peel® is recommended for:
Tackling pigmentation

Creating a radiant glow

Eradicate dead cells and promote new cell growth
How many treatments are required?
Four treatments are carried out two weeks apart each, form part of the treatment schedule.
Wrinkle Correction Treatment
Ageing is a natural part of life that causes our bodies and features to change gradually over time. One of the things that manifest as we age are wrinkles and fine lines and it can be daunting when we start to see these appear. Wrinkle correction treatment can help to temporarily eliminate these signs and here at Re:Nu Dental & Medispa, we take a holistic approach to facial aesthetics treatment and look to enhance your natural features.
What is a wrinkle correction consultation & what can I expect from treatment?
Our medical professionals will consult with you about facial aesthetic treatments, including wrinkle treatment, to see what is appropriate for you. If wrinkle correction treatment is deemed suitable for you, then treatment may include a series of injections containing a neurotoxin that can temporarily paralyse muscles. When an area is administered with the neurotoxin, the signals from the nerve to the muscle are blocked and therefore, the muscle can't contract, which means no wrinkle appears. We will assess your suitability for treatment and create a tailored treatment plan suited to your needs and expectations. Our philosophy is to treat the individual and accentuate a person's natural beauty by adopting a "less is more" approach. 
Which areas can be targeted with wrinkle correction treatment?
Crow's feet

Forehead lines

Bunny lines

Tear troughs 

Jawline and neck

Jaw angle

Frown lines

Lipstick lines
Why have wrinkle correction treatment?
Treatment takes as little as 10 minutes to complete. For this reason, wrinkle correction treatment is often referred to as "the lunchtime facelift"

No recovery period is necessary, making wrinkle correction treatment a much more favourable alternative to surgery

Feel confident in your skin

Hugely popular facial aesthetic treatment – around 6 million people have wrinkle correction treatment worldwide

Treatment can last for 6-9 months, depending on how regularly you have it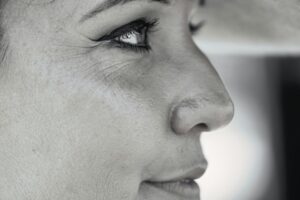 Microneedling
Microneedling is a minimally invasive medical aesthetics treatment used to address skin issues by triggering the power of collagen production in the body. Skin concerns ranging from fine lines and wrinkles to acne, age spots and skin elasticity can all be addressed with this versatile treatment.
What's involved with microneedling?
Microneedle treatment involves the doctor making small pinpricks into your skin using a dermaroller type microneedling device – these are tiny and most patients don't notice them with the naked eye after the procedure. The pinpricks caused by the dermaroller type microneedling device triggers your skin to create more collagen.  
Why choose Microneedling?
Microneedle treatment has minimal side effects post-treatment

Viable non-surgical alternative

Reduces the appearance of fine lines and wrinkles

Harnesses the power of your body's repair capabilities

Can be used to improve the look of scars

Reduces the appearance of stretch marks
Mesotherapy
Mesotherapy treatment is effective at improving scalp and skin health, reducing skin imperfections, to give smoother, clearer and younger-looking skin. This is a viable alternative to surgery that yields predictable results and involves injecting vitamins and amino acids into the skin to give a rejuvenated look. Mesotherapy can benefit those looking to reduce the appearance of acne scars, stretch marks and cellulite. Mesotherapy for hair is also a tried and tested treatment for hair loss.
What's involved in Mesotherapy treatment?
Your practitioner here at Re:Nu Dental & Medispa will talk you through the benefits of treatment and ascertain your suitability. Following this, small superficial injections will be administered to the middle layer of the skin, containing PRP amino acids and other substances which will boost collagen and elastin production. We recommend around 3 treatments at 4 week intervals to harness the full potential of treatment.
Mesotherapy for hair
Medically proven to slow hair loss or stop it completely, Mesotherapy is a gentle, pain-free alternative to more invasive hair loss treatments. The treatment is aimed at reviving hair follicles and rejuvenating the scalp. Most patients require 8 sittings with weekly intervals to see results.
Why choose Mesotherapy?
Treatment takes little time – depending on the areas addressed, it's normally between 30-60 minutes

Minimally-invasive treatment

Popular treatment for acne scars

Fast acting skin treatment – you will notice the results within days

Plumper, hydrated and wrinkle-free skin. Mesotherapy is a versatile treatment that can also reduce signs of cellulite and stretch marks

Healthier, thicker hair after two to three months of treatment

Hair loss reduction from the third treatment
Profhilo®
Wrinkles and lines come for us all someday and our skin begins to lose its youthfulness, firmness and volume. Profhilo® treatment encompasses a series of hyaluronic-based injections, which are targeted to specific areas of the face and body to trigger its natural healing powers. This results in improved complexion and healthier-looking skin.
What's involved with Profhilo® treatment?
A minimally invasive treatment, Profhilo injections contain a high concentration of hyaluronic acid to treat signs of ageing. Our medically-trained doctors will apply an anaesthetic cream to numb the areas being treated before using a very fine needle to administer the hyaluronic acid filler. The procedure itself is relatively quick and requires no downtime – perfect for those looking for instant, long-lasting results.
Why choose Profhilo®?
Hyaluronic acid fillers improve skin tone

Hydrates the skin

Gives skin radiance

Versatile – treatment can be used to tackle wrinkles across the neck, décolleté, arms, knees and hands

Tried and tested – we've helped countless clients improve the appearance of skin on their face and body with this highly effective treatment.

Helps you feel confident in your skin

No recovery time
Ultherapy®
Ultherapy® is a non-surgical facelift used to address skin tightening with micro-focussed ultrasound energy. Skin concerns ranging from fine lines and wrinkles to acne, age spots and skin elasticity can all be addressed with this versatile treatment.
What's involved with Ultherapy?
Ultherapy is the only non invasive treatment  cleared by the FDA for lifting and tightening skin on the lower face, brow, neck and décolleté. This non-surgical facelift  creates a more defined jaw lone, improved jowl area, elevated brow and enhanced skin tone and texture without down time. Ideal candidates for this skin tightening are those with mild to moderate laxity. Advocates include Tess Daly, Christie Brinkley, Jeniffer Aniston and Gwyneth Paltrow.
Why choose Ultherapy?
Ultherapy has minimal downtime

Non-surgical facelift providing natural results

Tightens the skin of your face, neck and décolleté

Creates a more defined jaw lone, improved jowl area, elevated brow

Can enhance skin tone and texture

Boosts your own natural production of collagen and elastin using ultrasound energy
Here at Re:Nu Dental & Medispa, we take a holistic approach to facial aesthetics treatments and strive to keep you looking renewed and refreshed.
For more information, please contact our friendly reception team who will be happy to share more information about this with you.