In the past, the choice of appliances for orthodontic treatment were limited, meaning many adults were put off addressing misaligned, crowded and widely spaced teeth. However, Invisalign clear aligners or "invisible braces" have reinvented what it means to have braces, offering patients a removable and aesthetic brace that provides flexibility.
What are Invisalign clear aligners?
The aligners for the "invisible braces" are made from BPA-free plastic and resemble a clear-coloured retainer. As they are indeed clear-coloured, they are subtle in appearance (hence the prefix 'Invis'), designed to keep your smile looking unaltered during the treatment period – your friends and family need not even know you have them in.
Invisalign before and after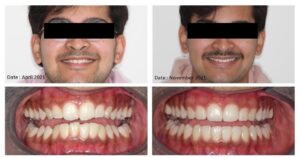 Invisalign before and after an 6-month treatment
How much does Invisalign cost?
Our expert Invisalign-trained doctor will determine the cost of your treatment based on how complex your case is and how many aligners you need.
There are several options to make Invisalign treatment more affordable for you, we offer flexible and affordable monthly payment plans, which will make your Invisalign journey with us much easier.
Head over to our dental fee list for more information.
How long does Invisalign take?
The treatment duration will also depend on the complexity of your case, but you'll start seeing results and tooth movement in a matter of weeks, some patients could complete their treatment in as little as 6 months like our patient in the photo above. Typically, Invisalign cases ranges from 12-24 months.
How does Invisalign work?
First, we will invite you to an initial consultation where we can talk through your options and assess your suitability for Invisalign. Secondly, we will then take digital, minimally invasive impressions of your teeth using iTero™ element scanner to send away to the Invisalign lab, for your custom aligners to be created. The number of Aligners or custom trays depends on the complexity of your case. Simple cases need less aligners or trays. Thirdly, once we receive them back at the practice, we will provide you with the information you need to continue treatment at home. You will need to change the aligners/trays every 2 weeks and wear them for 22 hours of each day. We will continue to monitor your process in the clinic and guide you at every step of your Invisalign journey with us.
Does Invisalign work?
YES! Invisalign has treated over 7 million patients worldwide and has attracted a huge number of adult patients to have the treatment they required but would not have otherwise chosen to have with limited braces on the market.
Can Invisalign fix overbite?
Yes! Invisalign can treat mild to moderate overbites. They can also fix underbite, Crossbite and Open Bite cases.
Why choose Invisalign?
"Invisible braces" are for the modern adult or teen, offering both aesthetics and practicality

As it's removable, you can brush and floss as normal, unlike in the case of fixed braces

Continue enjoying the foods you love, which would otherwise be limited whilst wearing fixed braces

Digital impressions are taken – these are much more comfortable than traditional alginate impressions

ClinCheck means patients can actually see the result of treatment before they even begin
"this time around is nothing like when I had my train tracks"
— One of our satisfied clients
If you would like to book an appointment for your child or yourself, please don't hesitate to contact our team at RE:NU
Please call our practice today on +44 (0)2081674185 OR email hello@renudentalmedispa.com to arrange an appointment.