We want to offer an easy, caring approach to all members of the family here at Renu, as we understand the thought of visiting a dentist can sometimes be an anxious one.
On your first visit, we just want to get to know you and understand what it is you want from your dental treatment, your expectations and hopes.
We would undertake a new patient examination, which will allow us to do a comprehensive check of your teeth and gums, assess your soft tissues, glands, and jaw and discuss your medical history and general health to enable us to understand you and your goals.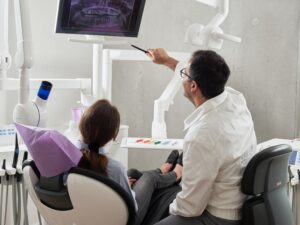 Why do I need a check up?
Having a regular dental check-up is essential for maintaining a healthy smile.
You may not feel as though anything could be wrong with your teeth, but it is essential to have these regular check-ups to keep your mouth healthy, and make sure any issues are dealt with as soon as possible – or prevent them altogether.
Having a regular dental check-up is essential for maintaining a healthy smile.
— Dentists & Hygienists

Do I need photos and X rays of my teeth?
We take photographs of your face, smile, teeth and gums to help us provide you with the knowledge you need about your mouth, and then we take x-rays (if necessary) to show anything we physically cannot see and to provide us with a mechanism for the long-term monitoring of your oral and dental health.
There are no hidden costs so no matter what, if we take x-rays or photos of your teeth the cost for a new patient examination stays the same.
How often should I go to the dentist?
Two visits a year are usually recommended for most patients, however your dentist will assess and discuss your individual case and recommend a tailor-made plan. In a typical check-up, patients are seen by both a hygienist and a dentist. Check-ups are important not only for cleaning, but to find any problems early.
It is important to see your dentist on average twice a year for the following reasons
Your dentist can check for problems that you might not see or feel
Allow discovery of early signs of decay (decay doesn't become visible or cause pain until it reaches more advanced stages).
To treat any other oral health problems found. Generally, the earlier a problem is found, the more manageable it is.
Are there people who need more frequent or less frequent appointments?
Twice yearly appointments work well for most people. However, some people may need to be seen more often. Such people include those who have:
Gum disease or high risk of decay
Family members with a history of plaque build-up, gum disease or cavities
Experienced certain life events — particularly those that cause stress or illness. Under these circumstances, changes in the mouth or an infection could occur.
On the other hand, people who have taken great care of their teeth and gums and have gone years without any problems might need to see the dentist less often.
Ask your dentist what schedule works best for your state of dental health.
Bespoke treatment plan
Once the examination is complete, the dentist will discuss the findings in detail and recommend a treatment plan.
We can discuss your treatment options and plan your dental care, together with associated costs and time scales. We can then provide you with a written treatment plan.
If you have complex cosmetic decisions to make, whether it be Invisalign, tooth whitening, composite bonding or others, then we may recommend a further consultation to fully discuss the benefits, costs and implications of your treatment options.
When your consultation is complete, our receptionist will book further appointments for treatment, if necessary, or advise you when to expect a reminder for your next check-up.
Contact our team at RE:NU to book you first visit. Please call our practice today on +44 (0)208 167 4185 OR email hello@renudentalmedispa.com to arrange an appointment.